Our Value Begins With Our Facility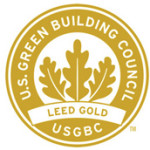 We're proud to operate the region's first LEED Gold commercial laundry facility, which stands for Leadership in Energy and Environmental Design. The LEED Gold designation, overseen by the U.S. Green Building Council, is reserved for facilities that are designed to maximize operating efficiencies at every level of the process.
We carefully designed, built and equipped this facility to require less labor, water and energy per pound of linen processed. That allows us to deliver superior service at competitive rates. Besides reducing the use of toxic chemicals and eliminating hazardous waste, our better-than-industry-standard practices mean a lower carbon footprint for us and a lower-cost, more sustainable supply chain for you.
How do we deliver efficiency? By taking recycling seriously:
We preheat our incoming water supply from 45 to 95 degrees, using waste heat from previously used water.

We only use raw energy input to then raise the temperature from 95 to 150 degrees.

Our continuous bath washers use .8 gallon of water to process 1 lb. of linen. Conventional washers use as much as 5 gallons per pound of linen.

We use waste heat from our dryers to heat incoming air to 100 degrees.

We only use raw energy to then raise the dryer temperature from 100 to 160 degrees.

We use continuously recycled oil to heat the rollers in our presser. The oil is heated to 350 degrees, and sheets are dried and ironed as they pass between the rollers and the plates.

Besides saving water, this system has allowed us to reduce our boiler requirements and save energy.
These economical methods mean long-term savings for you. Contact us today for sparkling clean linens handled with care.
Request a Quote